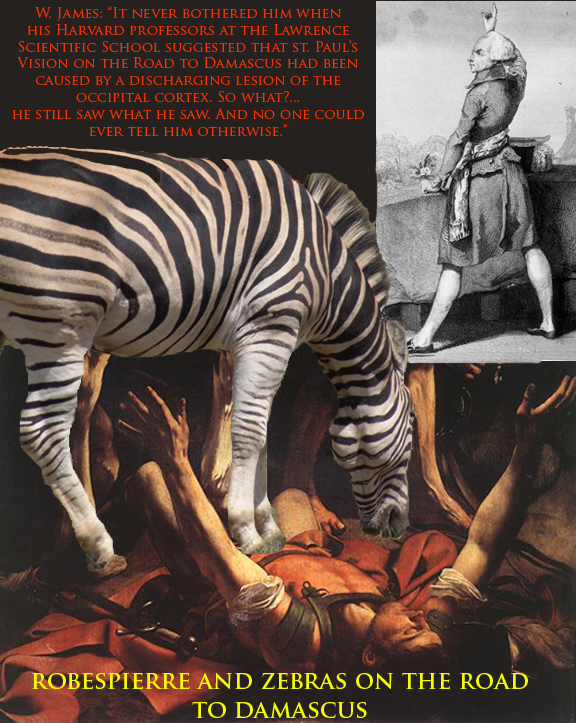 Last week I wrote about placing one's bet on what is real and what is not,…and sticking with it. Of course, by real, I meant what is important to you, what is worth believing in, fighting for, persuading others to get on board with, etc. After all, what could be more real than the things one believes in. No tilting at windmills for me.
Now, holding a belief versus, let's say, a zebra's tail is different. The things we are able to feel in our gut are not the same as the things we're able to touch (side note: see my earlier Cranky Thoughts on the Word 'Things'). What?…Oh. I've just been informed it's a very bad idea to touch any part of a zebra, least of all its tail, but I'm sure you get my drift. As for that "feeling in one's gut", assume it's not a hookworm.
If you are a Materialist (in the philosphical, not the Donald Trumpical sense), reality is fairly steady state. It's right there in front of you, revealed by physics, chemistry and biology. Sure, we don't understand how to square quantum mechanics with Newton's fulcrum, but give it some time, the Unified Field Theory is right around the corner. A Materialist calls the mush inside his or her skull: a Brain.
On the other hand, Idealists are skeptical. They suspect that there's more to it than the flux of waves and sub-atomic particles. An Idealist calls the mush inside his or her skull: a Mind.
I'm glossing differences here, but stay with me. Suffice it to say, for the Idealist, it's the "ineffable" that counts; for the Materialist, it's the zebra.
Of course, both schools of thought have their truants: Osama bin Laden was a bad idealist, poets make good idealists. Dr. Frankenstein?…bad materialist, astronauts, good. Nevertheless, regardless of one's ontological stripes, most everyone other than Tea Partyers and Justice Scalia agrees that Reality is always on the move…and our beliefs right along with it. Things change; best to adapt to circumstances as they unfold, stay light-footed and watch out for the stuck pleats…maybe take a lesson from Robespierre. The Incorruptible, as he was called, stuck his neck out for a belief, and look where it got him. His head?…a fadeaway shot into the guillotine basket. The guy should have gone turtle. Clearly, it's a hell of a lot easier to change one's mind than one's brain.
Anyhow,…my meandering point is that both idealists and materialists share a measure. Both experience their certainty through the crescendo of a pounding heart, that epiphanic corkscrew of the belly, the angelic flutter that comes with suddenly seeing clearly through the ordinariness of everyday life. This is always where conviction ends up for us sentient self-reflective beings…the insouciance of Mr. Natural's Meatball.
William James – sidetracked artist, failed naturalist, bored physician, but crack mystic of everyday life, simple acts, and the scientifically sick soul – he understood this. "It never bothered him when his Harvard professors at the Lawrence Scientific School suggested that Saint Paul's Vision on the road to Damascus had been caused by a discharging lesion of the occipital cortex. So what?…he still saw what he saw. And no one could tell him otherwise."
Hmmmm,…here's another thought: Note to Bashar Hafez al-Assad. Take a play from Paul's book on your next swing through downtown Damascus…see the Light.