The Door-Man
---
Reviewed in The New Yorker March 21, 2002

Listed among The Best Books of 2022 in The New Yorker October 26, 2022
"You ask whether I shall discuss 'man'…I think I shall avoid the whole subject as so surrounded with prejudices, though I fully admit that it is the highest and most interesting problem for the naturalist." (Charles Darwin to Alfred Wallace, 12/22/1857)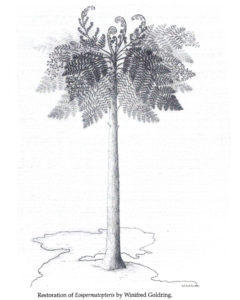 The Door-Man is based on actual events that took place at the town of Gilboa, NY, during the construction of the Schoharie Reservoir in 1917. That year, as work was beginning on the dam, there was a discovery of fossils in the sandstone quarries. A young paleontologist named Winifred Goldring (1888-1971) made the identification of an ancient forest flooded during the Devonian Period, 350-400 million years ago when the earth's botanical explosion of oxygen opened the evolutionary path for humankind. Nevertheless, the reservoir water was needed by the City, and the fossils were soon flooded anew, along with the doomed town of Gilboa. The novel is a fictionalized account of the fossil discovery and its aftermath. It follows three generations of interwoven families who share a deep wound from Gilboa's last days. The story is told by the grandson of Winifred Goldring, a disaffected New York City doorman who works on the upper west side of Manhattan near the Central Park Reservoir during its decommissioning in 1993. He has taken his position in order to be near one of its residents – a person who holds the clue to a dark mystery from Gilboa's last days. The brief and provisional nature of one's life on earth – as well as the nested histories of the places, people and events that give meaning to it – forms the backdrop to a reckoning with 'Deep Time' within the tangled roots and fragile bonds of family.
---
The Door-Man is Jamesian in the best ways. Wheelwright's skill in managing the trickiness of the multi-generational novel is laudable."
Kurt Andersen, author of Evil Geniuses and Fantasyland
A suspenseful reflection on identity and memory, with their unsparing strangeness and dreamlike fragility, The Door-Man intimates that while time does not heal all, it does elicit forgiveness. Wheelwright reminds us that, like memory itself, life does not progress steadily without opposition, but occurs in unexpected leaps and bounds, seemingly random and always incomplete. A complex and thoughtful book.
Susanna Moore, Author of The Lost Wife and In the Cut
Good fiction opens new dimensions and perspectives on our existence, and Peter Wheelwright opens many in The Door-Man that will be of particular interest to New Yorkers and New York Staters: the history of Central Park and of the city's water system, the emergence of the first forests 380 million years ago in the now flooded town of Gilboa; the dioramas and specimen cases of the American Museum of Natural History, the sanctum sanctorum of the planet's animal diversity; with visits to the Miccosukie people of the Everglades. All in the course of the gripping three-generation saga of an extended family that includes murder, incest, bastard siblings, and all kinds of other skeletons in the closet. A frothy bouillabaisse of narrative history and imaginative storytelling.
Alex Shoumatoff, literary journalist, author, and editor of Dispatchesfromthevanishingworld.com
The Door-Man is a big, deep, beautiful book that ponders the mysteries of identity and existence–where we're from and what we are, and the hidden forces that bind people together and drive them apart. Peter Wheelwright has written a riveting multigenerational saga that is also a meditation on time itself–what it gives and what it takes, and ultimately, what endures.
Catherine Chung, author of Forgotten Country and The Tenth Muse
Wheelwright conjures another time and world, a once-here historical intrigue as poignant as memory. Filled with insight, deft detail, wry wit, The Door-Man is exactly the novelistic embrace we need in our agitated bewilderment.
John Reed, author of Snowball's Chance and A Still Small Voice
Like Richard Powers and Barbara Kingsolver, Peter Matthiessen Wheelwright renders the inextricable connection between natural history and human history in this beautifully layered and richly imagined novel. Wheelwright's perceptive and observant door-man, Kinsolver, is a wonderful repository of comings and goings, past and present. As much philosopher and identity sleuth as valet, he excavates the stories of three generations from their entanglement with the geologic history of upstate New York, thereby offering escape from repetition of an aberrant past. One gets the feeling that Wheelwright knows this territory in his bones!
Paula Closson Buck, Author of Summer on the Cold War Planet
Starting from the political intrigue, science, and mechanics of a massive public works project—the creation of a reservoir for New York City by flooding communities in the Catskills – The Door-Man is, at one level, a historical fiction, vibrant with the colors and controversies of the region from the early 20th century, and on this strength alone, it would hold us. But Wheelwright's writing, so rich with detail, winds across generations and brings to life a vast array of characters—from muleskinners and paleontologists to murderers and a door man. We are swept into a swirling plot that is at once suspense story, speculative fiction, romance, and comedy. And it is more than these. Just as blasting the earth in a tiny upstate town reveals a history before history, setting in motion the quest to revive a primeval forest, Wheelwright's novel takes us deep into human motivation and beyond it, to a concept of time that dwarfs us. Like such classic U.S. novels as Steinbeck's East of Eden, Cather's My Antonia, or Roth's American Pastoral, The Door-Man asks each of us to reflect on our place on these American lands and among the people we've variously misunderstood, loved, displaced, or forgotten.
Derek Furr, Author of Suite for Three Voices and Semitones
---
---
As It Is On Earth
2013 PEN/Hemingway Award Honorable Mention for Literary Excellence in Debut Fiction
In the waning days of 1999, four centuries after the Reformation Pilgrims came sailing up the rivers of New England, beating their way against the watersheds of the North American continent, Taylor Thatcher is still caught in the turbulence. Irreverent skeptic and scion of a fallen family of Maine Puritans, Thatcher is a young college professor charged with teaching vague multi-disciplinary courses at the University of Hartford…and it is not going well. Undisciplined by nature, he suffers from Emerson's "excess of awareness," and has come to see history's March of Progress as nothing more than Accidents Waiting to Happen. Furthermore, he feels bad having to give his students this news. Even his fun-loving, poker-playing, faculty colleagues at SASS (The Center for Science, Artifacts and Social Systems) cannot offer much comfort when he is put in charge of organizing The Millennium Conference – his imperious Dean's idea of "an academic Super Bowl" between Science and Religion.
To make matters worse, Taylor's cooling love life has finally collapsed upon itself, and his eccentric younger half-cousin/half-brother, Bingham – amateur naturalist and self-declared "Pre-Humanist" – has begun behaving more oddly than ever since appearing in Hartford from the family homestead in Mt. Vernon, Maine. Enlisting the help of photography student and former Israeli soldier, Miryam Bluehm, Professor Thatcher spends the seven days prior to The Millennium Conference searching for answers to Bingham's dilemma only to face his own at Mamacoke, a small Connecticut estuary island also caught in the tidal currents of the Age of Discovery.
In his errant attempts to escape from "history," Thatcher is swept by Time through the "family thing" – from the tangled genetic and religious history of his New England parents to the redemptive birthday secret of Esther Fleur Noire Bishop, the Cajun-Passamaquoddy woman who raised him; and, finally, from love in the ruins of the Mayan Yucatan to his own last stand on Columbus Day at a high-stakes gambling casino, rising in resurrection over the starlit bones of a once-vanquished Pequot Indian Tribe. Old New England, its landscapes, rivers, and tidal estuaries are also casualties of history in Thatcher's story of Deep Time and the wayward collision of nature and civilization, "…hammered pin-balls in an endless play of historical levers, plungers, flashing lights, and tolling bells; all chance, played out by others,…other people, in other places and times, over other events, other Gods…"
As It Is On Earth takes place over the course of eight days, each chapter covering a single day. The first chapter, Chapter 'Zero', begins with Thatcher's skepticism about Genesis and its omission of "the day before" the first day of Creation. In his quest for answers, young Thatcher encounters, in the words of one reviewer, "an oddball cast of dreamers and alcoholic holy men, stargazers and crack mystics, naturalists and sidetracked philosophers", all of whom assist him, finally, in achieving his "self-creation" and saving grace.
---
"There is no lack of ambition or artistry in Peter Wheelwright's As It Is On Earth, a complex tapestry of the collisions between civilization and nature, and science and religion, among other minor topics. But its heart is "the family thing", and the pleasure of this book is watching Wheelwright's sensitive and skeptical protagonist unravel decades of secrets and lies. A remarkable debut."
Helen Schulman, author of This Beautiful Life
"One of the deep pleasures in reading Peter Wheelwright's gorgeous debut novel As It Is On Earth comes from the dizzying journey through the constellations of his protagonist's life as he attempts to untangle the Gordian knot of his family legacy. His world is messy and contradictory, saturated with desire and utterly intoxicating; it's a place where ideas about science and art and nature and history combust until secrets are laid bare. As in the best of novels, Wheelwright both broke my heart and gave me great faith in acts of forgiveness and in the tenderness of our hearts."
Lisa Fugard, author of Skinner's Drift
"A family wound is at the center of As It Is On Earth. Peter Wheelwright is a natural born writer with a scholar's deep thoughtfulness and a gift for seeing the links, often obscure, elusive, and contradictory, that connect and hold one generation fast to another."
Alec Wilkinson, author of The Ice Balloon
"With a Yankee tap root breaking through layers of granite guilt, the Thatcher family tree is a challenging climb. From its branches, author Peter Wheelwright peers compassionately at a world inhabited by young survivors of extinct tribes and inherited griefs. Fascinating and absorbing and forgiving."
Meryl Streep, actress and author
---
CREDITS: Book cover designs by Andy Carpenter of ACD. Photograph of Mamacoke Island (As It Is On Earth) by Mark Mathew Braunstein.