Forthcoming: The Door-Man
"You ask whether I shall discuss 'man'…I think I shall avoid the whole subject as so surrounded with prejudices, though I fully admit that it is the highest and most interesting problem for the naturalist."

(Charles Darwin to Alfred Wallace; December 22, 1857)

The Door-Man is historical/literary fiction with black comic touches. It is based on actual events that took place at the town of Gilboa, NY, during the construction of the Schoharie Reservoir in 1917. That year, as work was beginning on the dam, there was a discovery of fossils in the sandstone quarries. A young paleontologist named Winifred Goldring (1888-1971) made the identification of an ancient forest, dated to a vast flood from the Devonian Period, 350-400 million years ago. Today, both the fossils and the remnants of the town of Gilboa lie under the Schoharie Reservoir water.
The novel is a fictionalized account of the fossil discovery and its aftermath. It follows three generations of interwoven families from Gilboa, and is narrated, in part, by a relative of Winifred Goldring, a New York City doorman who works on the upper west side of Manhattan near the Central Park Reservoir during its decommissioning in 1993. The doorman is working incognito – 'in hiding,' both from others and himself. He has taken his position at the St. Urban in order to be near one of its residents – a man who holds the clue to a family mystery from Gilboa's last days.

…important themes include: Women in Science, Earth History (Deep Time), The clash of Nature and Culture, the entanglement of Art, Science and Religion, Bastardy…and, perhaps most importantly, the difficulty of Love in the Ruins (in the Walker Percy sense).
This link offers a sneak peek.
In the meantime, As It Is On Earth continues to hold pride of place.
2013 PEN/Hemingway Award Honorable Mention for "Literary Excellence in Debut Fiction" and Pushcart Prize Nominee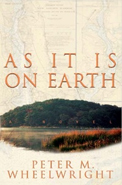 In the waning days of 1999, four centuries after the Reformation Pilgrims came sailing up the rivers of New England, beating their way against the watersheds of the North American continent, Taylor Thatcher is still caught in the turbulence.
Irreverent skeptic and scion of a fallen family of Maine Puritans, Thatcher is a young college professor charged with teaching vague multi-disciplinary courses at the University of Hartford…and it is not going well. Undisciplined by nature, he suffers from Emerson's "excess of awareness," and has come to see history's March of Progress as nothing more than Accidents Waiting to Happen.
Furthermore, he feels bad having to give his students this news. Even his fun-loving, poker-playing, faculty colleagues at SASS (The Center for Science, Artifacts and Social Systems) cannot offer much comfort when he is put in charge of organizing The Millennium Conference – his imperious Dean's idea of "an academic Super Bowl" between Science and Religion.
To make matters worse, Taylor's cooling love life has finally collapsed upon itself, and his eccentric younger half-cousin/half-brother, Bingham – amateur naturalist and self-declared "Pre-Humanist" – has begun behaving more oddly than ever since appearing in Hartford from the family homestead in Mt. Vernon, Maine. Enlisting the help of photography student and former Israeli soldier, Miryam Bluehm, Professor Thatcher spends the seven days prior to The Millennium Conference searching for answers to Bingham's dilemma only to face his own at Mamacoke, a small Connecticut estuary island also caught in the tidal currents of the Age of Discovery.
In his errant attempts to escape from "history," Thatcher is swept by Time through the "family thing" – from the tangled genetic and religious history of his New England parents to the redemptive birthday secret of Esther Fleur Noire Bishop, the Cajun-Passamaquoddy woman who raised him; and, finally, from love in the ruins of the Mayan Yucatan to his own last stand on Columbus Day at a high-stakes gambling casino, rising in resurrection over the starlit bones of a once-vanquished Pequot Indian Tribe.
Old New England, its landscapes, rivers, and tidal estuaries are also casualties of history in Thatcher's story of Deep Time and the wayward collision of nature and civilization, "…hammered pin-balls in an endless play of historical levers, plungers, flashing lights, and tolling bells; all chance, played out by others,…other people, in other places and times, over other events, other Gods…"
As It Is On Earth takes place over the course of eight days, each chapter covering a single day. The first chapter, Chapter 'Zero', begins with Thatcher's skepticism about Genesis and its omission of "the day before" the first day of Creation. In his quest for answers, young Thatcher encounters, in the words of one reviewer, "an oddball cast of dreamers and alcoholic holy men, stargazers and crack mystics, naturalists and sidetracked philosophers", all of whom assist him, finally, in achieving his "self-creation" and saving grace.
FREE

  Preview of  As It Is On Earth!

"One of the deep pleasures in reading Peter Wheelwright's gorgeous debut novel As It Is On Earth comes from the dizzying journey through the constellations of his protagonist's life as he attempts to untangle the Gordian knot of his family legacy. His world is messy and contradictory, saturated with desire and utterly intoxicating; it's a place where ideas about science and art and nature and history combust until secrets are laid bare. As in the best of novels, Wheelwright both broke my heart and gave me great faith in acts of forgiveness and in the tenderness of our hearts. "
– Lisa Fugard, author of Skinner's Drift

CREDITS:
Book cover design by Andy Carpenter of ACD.
Photograph of Mamacoke Island. by Mark Mathew Braunstein.